Kolenwagon GLG / Coal wagon GLG

H x L x B
H x L x W
Schaal
Scale
Bestelnr
Partnr
29 x 117 x 33mm
h0
Gratis
29 x 117 x 33mm
1:87
Free Download

This work is licensed under a Creative Commons Attribution-NonCommercial-NoDerivs 3.0 Unported License
The GLG coal wagon was build for the Dutch "Staatsspoorwegen". After the merger of several local railroads in the Netherlands into the "Nederlandse Spoorwegen" it was relabeld into the GLG class of coal wagons.
The model is designed to be printed on 160 grams waterresistant photopaper. Additionally some cardstock is needed (0,5mm thick). A printable rear side is supplied. When properly alligned this rear side colours the back side of the parts which are visible on both sides.
De GLG kolenwagen is initieel gebouwd voor de Staatsspoorwegen. Na het samenvoegen van verschillende lokale spoorwegmaatschapijen tot de Nederlandse Spoorwegen zijn de wagens omgenummerd naar de GLG kolenwagens.
Het model is ontworpen om op 160 grams watervast fotopapier af te drukken. Voor het bouwen van het model is verder nog karton van 0,5 mm dik benodigd. Voor de onderdelen van het model die aan twee zijden zichtbaar zijn, is er een pdf file beschikbaar welke op de achterzijde van pagina 1 van het model kan worden afgedrukt.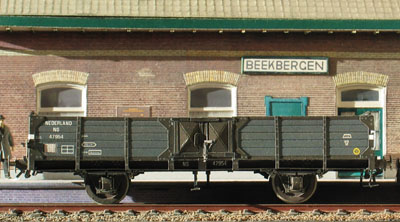 NS wagon GLG schaal h0 /
Coal wagon GLG scale 1:87

NS wagon GLG achterzijde schaal h0 /
Coal wagon GLG rear scale 1:87

Bouwbeschrijving /
Instructions