Reservoirgebouw / Water tower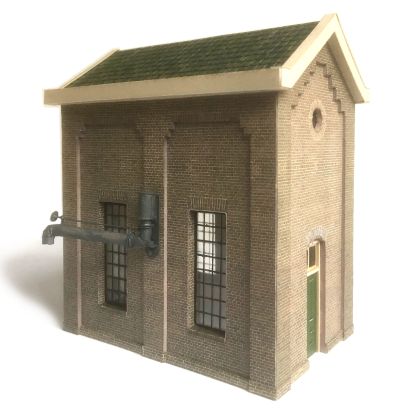 H x L x B
H x L x W
Schaal
Scale
Bestelnr
Partnr
105 x 95 x 65mm
h0
Gratis
105 x 95 x 65mm
1:87
Free Download

This work is licensed under a Creative Commons Attribution-NonCommercial-NoDerivs 3.0 Unported License
Water towers were used to supply water to the railway steam locomotives.
The model of this Dutch water tower is one of many different building vorms used in the Netherlands. The water tank was placed on the second floor and the water was either collected from rain fall or pumped up from a ground level water reservoir. The model can be fitted with a water column mounted on the side of the building or with a free standing water column.
The model is designed to be printed on 160 grams paper. Additionally some cardstock is needed as indicated.
Een watertoren of reservoirgebouw werd gebruikt om de stoomlocomotieven van water te voorzien.
Dit model van een Nederlands reservoirgebouw is een van de vele verschijningsvormen welke in Nederland voor kwam. Het reservoir stond op de eerste verdieping en werd gevuld tijdens regenbuien of door middel van het oppompen van water uit een waterkelder, sloot of waterbekken. Bij dit model zit een, aan de gevel bevestigde, waterkraan. Er werden ook vaak vrijstaande waterkranen gebruikt die naast de sporen waren geplaatst.
Het model is ontworpen om op 160 grams papier af te drukken. Voor het bouwen van het model is verder nog karton van verschillende diktes benodigd.
"Het maken van realistische ramen."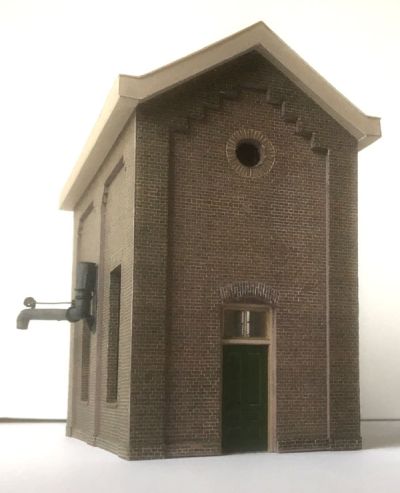 Reservoirgebouw pagina 1 schaal h0 /
Water tower page 1 scale 1:87

Reservoirgebouw pagina 2 schaal h0 /
Water tower page 2 scale 1:87

Reservoirgebouw pagina 3 schaal h0 /
Water tower page 3 scale 1:87

Reservoirgebouw instructie schaal h0 /
Water tower instructions scale 1:87